Social Networking for business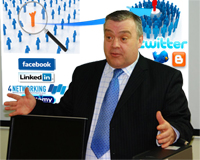 Are you ready for the Social Networking party that brings a constant stream of new clients to your door?
Have you signed up to FaceBook, LinkedIn and 4Networking yet?
Imagine you are the only person selling your goods or services in the marketplace and as soon as you set out your stall you are surrounded by people who are interested in buying….
Imagine being able to hear every conversation when people are talking about looking to buy exactly the products and services you sell…
A simple social networking strategy can bring you a constant stream of new leads
This is a real scenario – I know because I am doing it now! I've made 400 new contacts in six weeks from people who have approached me and secured four pieces of paid work. (How many new clients did you get in December?)
When I hear people talk about on-line networking I see people switch off. I sympathise because I did too – until I was forced to look at the evidence of what is happening.
I resisted all the social networking stuff because it just didn't seem business like and was definitely for a different generation – then I discovered a network where nearly 40% of users are over 45 and reporting great business results.
I was still resisting (no time, don't understand it, etc., etc.,) until I was led step by simple step into the world of Facebook, Linked-In, 4Networking and Twitter. (I know these seem stupid names but hey, they work!)
During the past twelve months, UK traffic to the Twitter alone has increased by 63% and predicted growth for the coming year sits at 435% – that's a pretty steep growth rate and unlike other social networks Twitter has a broader appeal. Many influential people are ditching their traditional website/newsletter method of communicating in favour of Tweeting, Blogging and Social Networking.
It's cheap, its easy, it gets you a good SEO ranking and it brings you lots of new contacts. (And you don't need a webmaster!)
Come and find out how it could transform your business in at one of my presentations or workshops where I will take you step by step through the process and answer all your questions.
Join me to find out more about tools such as…
I explain – in simple English – just how easy it is for you to set these tools up for yourselves and begin reaping the benefits straight away.
Or, if you have any concerns of questions please feel free to leave me a comment below
Ian is a social media and IT Strategist, Broadcaster, and Keynote Speaker on IT Strategy, Social Media and Information Security. Connect with Ian on Google+