How to upload your picture in Twitter – Step by step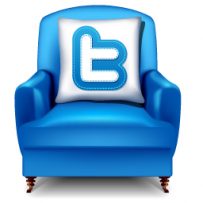 A few attendees to my Social Networking seminars have told me they've had some problems uploading their photograph to Twitter so I thought it would be a good idea to publish some very simple step by step instructions for everyone.
As you can see from the screen capture to the right, Twitter does give you a little help in selecting the right photograph, and gives some advice on copyright, but unfortunately it's not very helpful if you're new to this kind of thing, particularly if your not very computer savvy.
Here's a link to my article "Top Ten Tips To Create a Twitter Image That Attracts More Business" which gives valuable advice on chosing a good photo for uploading to Twitter which you should find it very useful.
If you are proficient with computers please accept my apologies for the simplicity of this article, but please remember that this is really for those novices who dearly want to become part of the social networking scene, who run into problems that stop them from doing so.
Friendly Note:
I'm looking for a full time role as Head of Social Media and Communities. Is there any chance you could help me please? – Many thanks! 🙂
Click here to find out more >
So, let's get on with the step by step instructions!
Step 1:
Log onto your Twitter account andclick on Settings in the Twitter menu

Step 2:
From the settings page, click the Picture Tab

Step 3:
On the Picture Setting page click the Choose File button

Step 4:
When the File Open dialogue dialogue box appears;
Navigate to the folder where you saved your photograph and click it.
You should see your photograph's filename in the File name box at the bottom.
NOTE: You can only upload a photograph that meets the following criteria:

Smaller than 700k
.JPG
.GIF
.PNG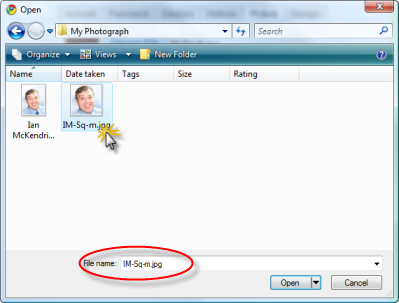 Step 5:
If you're happy to upload the photograph you selected then click the Open button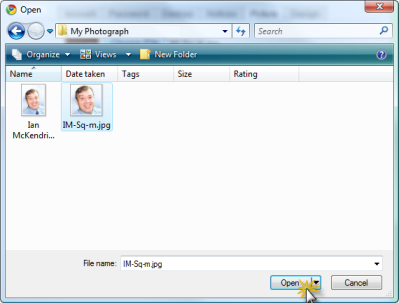 Step 6:
You should now see the filename you selected in the Picture Settings tab.
Click the Save button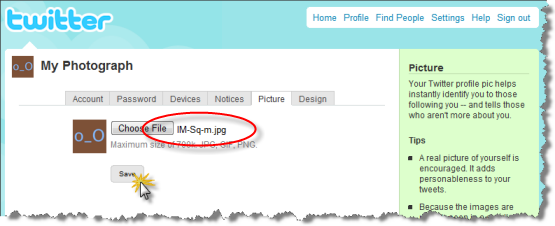 Step 7:
If  the picture you chose meets the criteria I mentioned above you shoud see a message "That's a nice picture!"
If you didn't meet the criteria, go back to Step 3 and and repeat the process,  selecting a file that does meet the criteria

Step 8:
Click the Home button to view your picture in your Twitter profile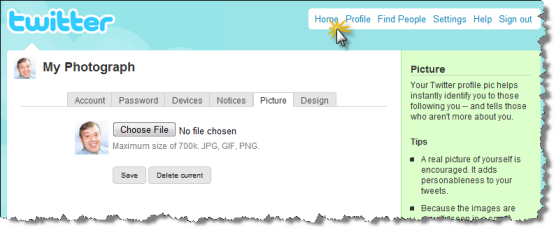 Step 9:
You should now see your picture in your Twitter profile, click your photograph

Step 10:
Now click your picture to see yourself in all your glory and give yourself a big pat on the back for a job well done!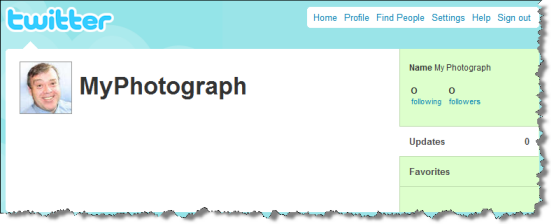 As everyone knows, the core of your social networking activities is your blog.
To get started with your blog quickly and easily you can get a SuperBlog just like mine HERE>>>
If you want to find out more tips and tricks to improve your social networking activities have a look at the training courses available on my site HERE>>>
(These include iPhone/iPad/iPod/iTouch/MP3/MAC/PC versions + full training notes)
Free Twitter training courses
Have your say
What's your experience with uploading your picture to Twitter? Please share your feedback using the comments below – Many thanks
Next Steps:
If you would like help with your social media policy development, or social media training for your staff and management teams on how to use social media effectively while protecting your brand and reputation, or would like to book Ian to speak at your next event then:
Call Ian on: 07979 593 970 or CLICK HERE>
Ian is a social media and IT Strategist, Broadcaster, and Keynote Speaker on IT Strategy, Social Media and Information Security. Connect with Ian on Google+