Mind Mapping and Broadcasting your Expertise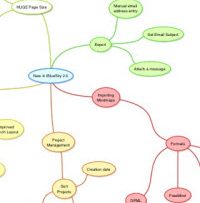 Yes we have all heard about mind mapping. It's those funny squiggly lines and pictures that we draw in order to remember things right? Cute child-like drawings that are meant to trigger our memory because they branch like natural objects whether branches of a tree or the inner workings of our brains. This isn't a lecture on mind mapping though; you can find out everything you know by contacting the leading thinkers in this field like Barry Mapp or Tony Buzan. I've been using mind maps for years to plan projects, remember speeches, link ideas or answer exam questions. And once you've grasped how to do it then it becomes a tool that can be used and developed over and over again in all different situations.
Mind mapping iPhone App – iBlueSky
I use the iBlueSky mind mapping software for the iPhone by Tenero Software, pictured above. I find it really useful to develop and organise new ideas in front of my clients, and when we're done, I simply send them a PNG or PDF of the finished mind map by email straight from my iPhone, there and then, with no fuss. iBlueSky even imports and exports in Novamind, OPML and Freemind formats which makes it really flexible and a great tool to work with.
The thing is, mind mapping as a technique really does work. Not only that but it starts opening up our minds to other possibilities. We all have some sort of skills, whether they be professional skills or hobby based and they are skills that we have learned that make us stand out from others. So why not use mind mapping techniques to show people what we have to offer? Yes, mind mapping can be a great business tool or memory jogger but it is also something more. It can also be a tool to 'sell' yourself in a fun, engaging and innovative way. Why not use the mind map concept to create the mind map of your business or to demonstrate your product or service? It will surely beat the hell out of a stale PowerPoint presentation and will help build a more 'natural' rapport with your audience.
Mind mapping "social media marketing" example
Here is a brilliant example of "broadcasting your expertise" which was created by Barry Mapp (one of our SuperBlog Subscribers – See his SuperBlog here>>) who actually created a mind map for his corporate Christmas Greeting card, which I thought was pure genius! It's ideas like this that lend themselves well to social media marketing campaigns as ideas like this are shared, creating their own word-of-mouth, raising awareness of what you do, and giving your followers the opportunity to talk about you and what you do.
That's what I like about mind maps. It's not just about using a fun, creative technique to trigger ideas and associations. It's also fun because it embraces real tangible ideas within a picture of childlike simplicity and innocence. Our eyes feast on the colours and the scribbled drawings and our minds feast on the links and the ideas. We relate to mind maps because we understand them – and like any great communication tool it's the simple ideas that sell the best.
Have your say
What are your experiences, are you using mind maps, or have you seen them being used in an inventive way? If so, please share them with us using thr comments below – Many thanks
Next Steps:
If you would like help with your social media policy development, or social media training for your staff and management teams on how to use social media effectively while protecting your brand and reputation, or would like to book Ian to speak at your next event then:
Call Ian on: 07979 593 970 or CLICK HERE>
Ian is a social media and IT Strategist, Broadcaster, and Keynote Speaker on IT Strategy, Social Media and Information Security. Connect with Ian on Google+