Social Media Security Training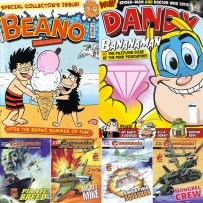 Corporate Social Media and Security Training for all staff at DC Thomson
(Publishers of The Beano, The Dandy, Peoples World etc.)
Several bespoke training courses  were developed and delivered to DC Thomson employees on how to use social media in a relevant and secure way, that showed them how to communicate effectively without compromising the reputation of D C Thomson or its publications.
The courses were specifically designed to reflect what was happening in the publications industry which is struggling to compete in the new digital marketplace. Real-world examples of good and bad practices were used throughout the courses with the purpose of inspiring their teams to explore social media in a safe way, introduce viable digital alternatives to current publication methods, and to keep everyone up to date with new technology developments in the industry.
Social media training sessions
Over 4 days Ian provided a series of 3 hour interactive and informative sessions to various groups of employees which illustrated the opportunities and risks that social media presents, and explored viable digital alternatives for existing publications.
The social media topics covered included:
Social Media Safety and Security
Raising awareness of the threats that social media can pose both in business and personal use. This part of the training helped employees understand how they could protect the brand and reputation of DC Thomson and also their own reputations while using social media outside working hours, and included practical advice and guidance on general security principals in order to be safe online.
Social Media Best business practice
Showing employees how to preserve their privacy and to protect them and DC Thomson from liability by upholding the principals in DC Thomson's internet usage policy. This included creating strong passwords, understanding what can be discussed in public and what should not be revealed about the business, best practices on protecting personal information, and limiting the leakage personal information and personal identities.
An overview of the social media landscape and how to use social media safely
This included real life examples of organisations that have been caught out by sharing inappropriate information, as well as failing to respond to negative comments appropriately. This section also included amusing anecdotes but ones that created strong, memorable messages, and how the use of best practices can avoid these problems.
Safe social media strategies and viable digital alternatives
The final sessions were meetings held with employees involved with on-going social media strategy and how this strategy was being run out across the group. This enabled staff to develop their social media and digital strategies and gave direction to the messages by using examples of companies using social media safely and winning new business.
Next Steps:
If you would like help with your social media policy development, or social media training for your staff and management teams on how to use social media effectively while protecting your brand and reputation, or would like to book Ian to speak at your next event then:
Call Ian on: 07979 593 970 or CLICK HERE>
Ian is a social media and IT Strategist, Broadcaster, and Keynote Speaker on IT Strategy, Social Media and Information Security. Connect with Ian on Google+