The Star Radio journey begins!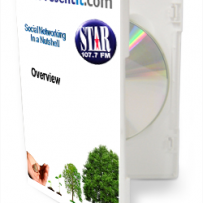 It all began with this interview
In October 2008 I was invited by Mark Peters of Star Radio Cambridge to come into the studios to be interviewed about a new presentation I was giving at a local business seminar.
After the Interview Mark and I got chatting about how Star Radio were using social networking and we discussed how some of the new technologies emerging around this could be used by the station. Although Star Radio has a highly informative website, and each of the presenters has a blog, it was soon very clear that a good social networking strategy could really help Star Radio to reach an even wider audience, increase listenership, and serve the community even better. We also thought it would be something that listeners would be interested in following especially as social networking brings so many people together, and if we got more people involved then everyone could benefit as a result.
Mark decided that it would be a great idea if I conducted some research into what Star were currently doing, and to come back and deliver a presentation of my findings to the Board and the stations presenters. At the same meeting Mark suggested I propose a new social networking strategy which Star Radio could implement that would assist them to reach more people, and help to give more back to the community.
So off I toddled…
The presentation
In December I went back and gave my presentation and everyone was duly impressed. After the presentation I was invited by Darren Taylor (Managing Director Star 107) and Mark Peters to help Star Radio implement the strategy that I had proposed. We also decided that it would be a brilliant idea if we were to make regular podcasts of what we were doing so that the entire community could join in and benefit too.
The future
On 15th January 2009 Mark and I will be meeting to plan how Star Radio's social networking strategy is going to be implemented, and how we can support what we're doing through Star Radio's various radio programs. Over the coming weeks and months Mark and I will be working together to implement our social networking strategy, we might even document the journey within these pages / we might not! However,  I'm sure we're going to have lots of fun along the way.
What to expect
We will be looking at using online services such as [blippr]FaceBook[/blippr],  [blippr]LinkedIn[/blippr], [blippr]YouTube[/blippr], [blippr]Stumblr[/blippr], [blippr]Digg[/blippr], [blippr]Delicious[/blippr], [blippr]WordPress[/blippr] blogs, [blippr]Twitter[/blippr] and many, many more weird and wonderful sounding applications! I'll be posting all of the podcasts that we make here on my blog, as well as on the Star Radio website. There will be plenty of  information supporting what we talk about, together with links to the services, and even detailed step-by-step instructions that clearly show how these tools can be  implemented, configured and used.
Our invitation
Please sign up and join us on our journey, it would be really wonderful to have you on board. Feel free to join in with everything we're doing and and let's have lots of fun together as we connect more people, make new friends, and help to build a more integrated and supportive social networking community.
Ian is a social media and IT Strategist, Broadcaster, and Keynote Speaker on IT Strategy, Social Media and Information Security. Connect with Ian on Google+