Stand Out and be Seen in your Marketplace
Stand Out and be Seen in your Marketplace
Surround yourself with potential customers by using the new marketing phenomenon that gives you unparalleled visibility and enviable Google rankings.
It costs very little, it's fun and it's growing faster than any other marketing tool. If you want to tap into the new way to grow YOUR business, you MUST NOT miss these two events.
To launch the brand new SuperBlog system, at this event only we will be giving away a FREE Social Networking Optimised SuperBlog AND Internet Domain name for ALL attendees
NOTE – everyone who attends either of these events will get a FREE Social Networking Optimised SuperBlog AND domain name (conditions apply)
If you've dismissed Social Networking and you think it's just for kids and people with too much time on their hands – think again!

During the past twelve months, Richard Branson, Tom Peters, Bill Gates, Malcolm Gladwell, Steve Jobs, Peter Drucker and many other business gurus have started using Twitter alongside pundits, politicians, journalists and broadcasters.
UK traffic has increased by 63% and predicted growth for the coming year is 435%! Unlike social networks Twitter has a broader appeal with business users and those over 35.
Many are ditching their traditional website/newsletter method of communicating in favour of Twittering and Blogging as it works on many different levels and produces immediate results.
It's cheap, it's easy, it gets you a good SEO ranking and it brings you lots of new contacts. (And you don't even need a webmaster!)
Ian McKendrick, MD of www.cambinet.com and www.letspresentit.com has a weekly feature on Star Radio to explain how and why business people can benefit from this amazing resource so you can get regular support by listening or visiting the Star Radio website at http://www.star107.co.uk/ .
Ian has teamed up with Mark Peters , Breakfast presenter and Programme Controller of Star Radio to produce a complete Social Networking training course which is due to be released on March 1st.
[vimeo 4554688 w=485&h=365]
Proven Social Network Strategy designed to surround you with prospects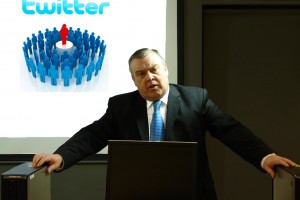 On Feb 24th Ian will give you an overview of a proven Social Network Strategy designed to surround you with prospects that need what your business has to offer. Core to that strategy will be your blog, where you and your business become the focus of your prospective clients. To finish the session Ian will explain, in clear and simple language how to use your free blog to raise your profile, and begin managing it as a Social Marketing business tool.
On March 31st after a brief recap of how you approached mastering the basics, and dipped your toes in the water with your free Social Networking Optimised blog, Ian will lead you through a detailed Marketing Strategy based on using these new tools. You will be introduced to some new Social Networking applications that combine into a truly formidable platform which will enable you to crank everything up to the next level.
Come to either or both!
February 24th and/or March 31st 2009
Time: 6.00pm – 8.30pm   – Light refreshments from 6.00pm
Venue: e-space North
181 Wisbech Road
Littleport (just 5 miles from Ely)
Ely, Cambs
CB6 1RA
Next Steps:
If you would like help with your social media policy development, or social media training for your staff and management teams on how to use social media effectively while protecting your brand and reputation, or would like to book Ian to speak at your next event then:
Call Ian on: 07979 593 970 or CLICK HERE>
Ian is a social media and IT Strategist, Broadcaster, and Keynote Speaker on IT Strategy, Social Media and Information Security. Connect with Ian on Google+