Sat Nav Voices Social Media Campaign Success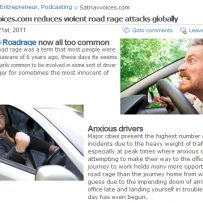 A communications revolution is afoot. We are seeing the biggest change in communication since the invention of Gutenberg's press in 1440 as millions of people engage in social media sites on the internet.
Ian McKendrick, Social Media Strategist, is in huge demand by businesses owners who want to make sense of this phenomenon and learn how to use it as part of their businesses strategy.
Ian explains: "More than two-thirds of online adults say they visit blogs and social networks, and one third engage in product research online. One in five visit blogs and social networks daily. What this means for businesses is that they have an opportunity to make connections with their customers and prospects on a more personal level than has ever before been possible. Companies are now using social media sites to creatively build their brand and increase sales. They need to be aware that if they are not out there talking to their customers, their competitors soon will be."
It's no longer enough to rely on a website
It is not enough to have a web site and wait for people to visit it. Even if it has good Google rankings you rely on people looking for you. With social networks you can make them aware of you in a variety of ways that are much more effective.
Ian provides an example of just how this can be done. By employing a social media sales strategy, Sat Nav Voices, a Cambridge company, increased sales by 300 % in less than four weeks.
300% increase in sales due to social media
"Following Ian's advice, we posted a series of carefully worded blog articles and talked about them on Twitter" explained Mark Peters, MD. "This drove traffic to our web site where sales were made. We saw the traffic visiting our site grow by the hour. Our previous traffic of two to three hundred visits rose to over two thousand a day by the end of the month. This has resulted in unprecedented levels of sales and enquiries."
Ford ditches traditional media for social media
Ian explains: "Gone are the days when we sell AT people. We need to engage  with them as individuals and once businesses learn how to use these tools effectively they will see a significant difference. Even a huge corporation like Ford is ditching the traditional TV and glossy magazine campaigns to launch their newest car and is using social media instead, getting people to test drive it and talk about it on social network sites. This is giving a message to potential customers that Ford is not afraid of 'real' feedback and that it values the opinions of its customers."
The social media landscape is changing daily
The landscape of social media is changing daily as people develop new applications and the public devise new ways of using them. Unlike any other media, these sites are driven by the public, are completely unregulated and need careful handling by businesses.
Ian McKendrick uses his 30 years of advising blue chip companies on IT strategy and information security to underpin his work.
Keeping secure with social media best practices
"Staying at the forefront of developments is essential" he says "Its not enough to know how Twitter and FaceBook work, we make sure that we know what our clients want to achieve as an overall business strategy and advise them on the best applications that make this happen for them. We make sure that small businesses avoid getting swamped or sidetracked and we help big corporations to design and implement secure procedures and employ social media best practices that enable their staff to take the initiative on line."
Ian is a social media and IT Strategist, Broadcaster, and Keynote Speaker on IT Strategy, Social Media and Information Security. Connect with Ian on Google+