Sensational Business Hub Airwaves To Extend Throughout East Anglia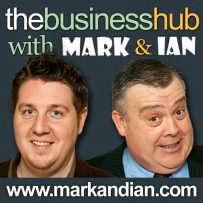 I have some great news to share today.
From Sunday 19th September at 9:00am The Business Hub will be also be  broadcasting on KLFM 96.7
We cannot get over just how popular The Business Hub has become in only a few months, and Mark and I would sincerely like to extend our heartfelt thanks to all of the wonderful people who listen to our show every week, either on-air, on-line, or by downloading our podcasts.
If you've listened to The Business Hub you'll know that the guests we interview are people just like you, and every week Mark and I are literally "blown away" by the ingenuity and absolute brilliance shown by by them,  and it's them, not us who are the stars of the show and deserve all the praise.
We'd also like to thank another SuperStar of The Business Hub, and that's our sponsor Mr Mike Dearlove of EACS.com, and without his support we wouldn't be able to do what we do. Mike is a true gentleman, and if you're looking for the best and most effective IT support in the world then give EACS a call! +44 (0)800 8047 256
Below is a copy of the press release that was sent out earlier today.
-+-+-+-+-+-+-+-+-+-+-+-+-+-+-+-+-+-+-+-+-+-+-+-+-+-+-+-+
PRESS RELEASE
15 September 2010
SENSATIONAL BUSINESS HUB AIRWAVES TO EXTEND THROUGHOUT EAST ANGLIA
Two inspirational men who six months ago launched The Business Hub, a unique weekly radio broadcast for businesses in the Cambridge and Ely area, are to extend the show throughout East Anglia this weekend following its sensational success.
Almost 4,000 people download the weekly broadcast as a podcast. It is also available as an iPhone and Android app for busy business people to tune in to if they miss the Sunday morning broadcast on Star Radio 107 and  the newly launched KFLM 96.7 airwaves between 9-10am. The programme is targeted at entrepreneurs, business owners and senior decision makers.
Founders Ian McKendrick, a social networking strategist, and radio broadcaster Mark Peters, are thrilled at the show's runaway success that has one simple goal – to help anyone in business succeed. As well as extending throughout East Anglia, talks are being held to launch it throughout the country – and their ambitious goal for 2011 is for The Business Hub to be featured on every local radio station.
Every week Ian and Mark interview successful business owners and entrepreneurs who share their success stories with listeners and the programme has various features which includes "Larry's Support Desk", covering IT issues, and "Social Media Mentor", with businesses describing how they use social media to increase sales and promote their organisations, along with "Business Book of The Week", "Website of The Week", "Business Winners and Losers" and "Challenge The Hub".
This week's show will feature American entrepreneur Tom Dickson who spent only $50 to launch a series of YouTube videos for a viral marketing campaign to promote his blender, the Blendtec, which included demonstrating how its powerful machinery could disintegrate an iPhone in seconds.
Ian said that local businesses very quickly latched on to the valuable information and advice available on air and were very keen to keep up to date with the latest social media marketing tools which are essential to help them survive today's economic downturn.
Ian said: "What we facilitate is a unique platform for businesses to learn for free about the very latest in business thinking from those who have an inspirational success story to share, and in the social media marketing which The Business Hub extensively uses to promote the show.
"Although the show is light hearted, highly entertaining and fun to listen to, it's packed from beginning to end with interesting business success stories and valuable lessons for everyone
"What's taken us by surprise is that during the last few months, we've been gathering a huge internet following and we're now serving almost 4,000 downloads of our podcast every week. I'm delighted our podcasts have been so popular, and these can be played at any time for those who miss the Sunday morning show. We have our own channel on iTunes where people can subscribe to the show and where people can downloaded our iPhone App. We have also released an Android App which delivers our show to those with Android phones and both these apps have been a surprising success too, with over 1,200  people now having our show delivered to them every week through their mobile phones."
From next Sunday, 19 September, The Business Hub will begin broadcasting on KLFM which covers most of East Anglia which has a potential audience of almost 1.2 million listeners in Suffolk, Norfolk, Hertfordshire, Bedfordshire, and this will bring our total potential audience to almost 2 million people. It can be found at FM 96.7.
"The Tom Dickson interview is a great example for many about how, with a limited budget, but heaps of imagination, you can become an overnight sensation as he did, attracting tens of millions of YouTube followers.
"We are very excited about extending into the region because the response we have had demonstrates that there obviously is a huge untapped demand for the programme. We are also keen to hear from anyone who would like to be interviewed on the programme who has an inspirational story to share.
"Our expansion doesn't stop in East Anglia as we are currently in discussions with two more digital stations who are interested in broadcasting our show in Essex, Chelmsford, Southend, North London and Northampton.  We are also hoping that it can be broadcast on 157 independent and community radio stations throughout the UK, as well as on 200 hospital radio stations. The potential is massive because businesses want to tune into it. Our goal for 2011 is to be on every local radio station across the UK."
Ends:
-+-+-+-+-+-+-+-+-+-+-+-+-+-+-+-+-+-+-+-+-+-+-+-+-+-+-+-+
Note to Editors:
You can find out more about The Business Hub here: http://thebusinesshub.fm/about/
Further details are available from Ian McKendrick on 01223 858 350. Ian's biog can be found here: http://ianmckendrick.com/about/
Mark's biog is here: http://www.markandian.com/businesshub/about/about-mark-peters/
Press release issued by Ellee Seymour, ProActive PR, 07939 811961, http://elleeseymour.com
Listen to our Podcasts>> – Join us on FaceBook>> – Subscribe on iTunes>>
Next Steps:
If you would like help with your social media policy development, or social media training for your staff and management teams on how to use social media effectively while protecting your brand and reputation, or would like to book Ian to speak at your next event then:
Call Ian on: 07979 593 970 or CLICK HERE>
Ian is a social media and IT Strategist, Broadcaster, and Keynote Speaker on IT Strategy, Social Media and Information Security. Connect with Ian on Google+