The Government Is Desperate – They're Giving Away FREE Cash And Support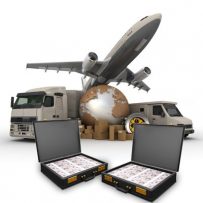 "Britain is open for business" and apparently the government have the funds and support you need to get started.
This week The Business Hub teamed up with UKTI in a show entirely dedicated to export and investment.
David Hurley of Anglia Business Solutions shared his experience of how UK Trade and Investment is helping him to expand his software business to reach new US markets.
Nick Tait of Syrris Ltd. told us all about his businesses global trade and export strategy and what you would need to do to follow his example.
Martin Keepfer of UKTI shared a case study of how a small family business is breaking into foreign export markets, and how they have begun by exporting their products to Australia.
Vic Annals, the UKTI Trade and Investment Director told us how "Britain is Open For Business", and even through the coalition cuts, how his Government Department is finding the cash and support that are needed to do business abroad. He also explained about the lengths the UKTI is going to in order to help UK businesses gain the investment they need, and what UK businesses need to do to gain the funding and support necessary begin exporting their products and services.
Finally, at the end of this specially extended podcast, Stephen Cook of UK Trade & Investment gave us some great examples and case studies of how businesses are expanding abroad, and what the UKTI is doing to go out of their way to help them.
Listen to UKTI Export Special Podcast online here:
http://thebusinesshub.fm/the-business-hub-show-podcast-12-september-2010/
(Scroll to the bottom of the page to play the podcast –  follow the show notes and links on the page)
Have your say
What are your experiences of breaking into foreign markets, are you getting the help, support and financing you need? Let us know by using the comment section below – Thank you
Next Steps:
If you would like help with your social media policy development, or social media training for your staff and management teams on how to use social media effectively while protecting your brand and reputation, or would like to book Ian to speak at your next event then:
Call Ian on: 07979 593 970 or CLICK HERE>
Ian is a social media and IT Strategist, Broadcaster, and Keynote Speaker on IT Strategy, Social Media and Information Security. Connect with Ian on Google+