How To Set Up Google+ Add To Circles Plugin On Your WordPress Blog Step By Step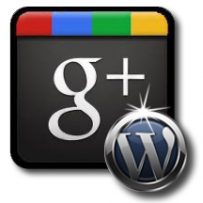 With Google Plus seemingly taking over the internet as millions flock to try it out, many bloggers are now looking for a simple way to integrate Google+ into their blogs.
After trawling  the internet for a suitable plugin, and experimenting with the many widgets, plugins and pieces of code that I found, I finally unearthed a WordPress plugin that was quick to install, simple to use, looks pretty cool, and works a treat.
It's a neat little plugin for WordPress called Googlecard and it enables your blog visitors to easily add you to their Google+ Circles. It's a widget that you can use in your sidebar, it fetches your Google Plus profile picture and lists underneath it how many Circles your Google+ profile is listed in. There's even a nice little button that visitors can click to add your Google + profile into their own Circles and begin following you.
Take a look in the sidebar on my blog here you'll see the plugin in action and you can test it for yourself, go on, try it out by clicking the button to add me to your circles!
Follow the step by step walkthrough below to learn how to install the Google+ widget in your own blog.
Step by step installation instructions:
Download the plugin from Google+ Devs website Here> and save the zipfile to somewhere where you can easily find it again on your computer. (You may have to right click the Download link and select "Save Link As" or "Save Target As" – It depends on your browser)
Log into your WordPress blog dashboard, open Plugins / Add new plugin.
Select Upload, click the Browse button, navigate to where you downloaded the zip file, select the file and click the Install Now button.
After the plugin uploads and installs, click Activate to activate the plugin.
Once the Plugin is installed and activated, navigate to Appearance / widgets in the WordPress dashboard
Drag the Googlecard widget to where you would like it to appear in your WordPress sidebar
Entering your Google+ settings into the Googlecard widget:
Twirl open the widget box by clicking the little arrow
Update the Title that will appear above the widget in your sidebar
Enter your Google Plus ID number (instructions for finding your Google Plus ID number are below)
Click Save to save the updated settings and you're good to go!
Finally, click your Site Title at the top of your dashboard to view the results of your handy-work…
…and you should see the new Googlecard plugin in all its glory in your sidebar!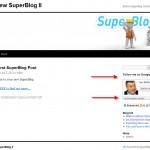 Update September 2011
A good alternative is here: http://widgetsplus.com/
Pop the resulting code into a text widget in your sidebar and you're good to go!
How to locate your Google+ ID
Here's how you can find out your Google Plus ID. Log into Google+ and click on your profile picture. Doing this opens up your public profile and you can find your Google+ ID by looking for the 21 digit number in the address bar at the top of your browser. See the image below where I've highlighted my Google+ ID number, you will find your own Google+ ID number in the same place when viewing your public profile online.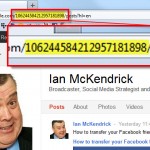 Have your say
So what are you going to do with Google+? Is it going to make a big difference to how you manage your social networking activities? Is it going to replace Twitter or FaceBook for you? I'd love to know, so please give me your feedback in the comments below – Thanks.
Next Steps:
If you would like help with your WordPress blog, social media strategy, social media policy development, or social media training for your staff and management teams on how to use social media effectively while protecting your brand and reputation, or would like to book Ian to speak at your next event then:
Call Ian on: 07979 593 970 or CLICK HERE>
Ian is a social media and IT Strategist, Broadcaster, and Keynote Speaker on IT Strategy, Social Media and Information Security. Connect with Ian on Google+