How journalist should NOT use social media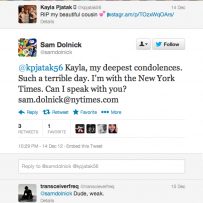 One of the most frequent questions I'm asked when delivering social media presentations and training courses is "What shall I say, what do I talk about?"
My response is usually, "Listen to what others are discussing and join in the conversation by adding something of value"
This method of engagement works really well because over time you build up trust, respect, integrity, and eventually you become recognised as the friendly, approachable expert in your particular niche, someone who intimately knows and understands their subject.
Listening – a difficult concept for some
To some people this concept [of listening and engaging] seems a bit tricky to grasp, and when they get onto sites like Twitter, FaceBook or LinkedIn they turn into human megaphones who end up shouting "At" people about who they are, what they do, and what an amazing difference their product or service will make to the lives, the businesses, or the problems of their followers.
Social media integrity
Worse still, which I found out today, is the selfish networker, the social networker who is only interested in what they can get out of social media advertising. Just this act alone could have a truly devastating impact to the integrity and reputation of a person, or to the brand they are associated with.
Inappropriate tweet
I couldn't believe my eyes this morning when I saw the following tweet from BBC World Affairs Producer and Journalist Stuart Hughes.
Clicking on his link took me through this social media Tweet from New York Times Metro Reporter Sam Dolnick which appears to have offended a lot of people for his apparent blatant attempt to gain an interview with Kayla Pjatak whose cousin was one of the 26 who died in the Newtown school shootings in America on Friday.
Lack of appropriate corporate social media policies and procedures
Seeing feedback like this is not comfortable reading, and it makes me wonder how he, or his employer The New York Metro feel about the responses his tweet has generated and how it fits with their online strategy. At the time of this post no-one seems to have officially responded, but like so many people (and entities) it may be because this account is not being monitored correctly, or it's not being managed with the appropriate social media policies and procedures in place. I'll be watching this with interest over the coming weeks to see what we can learn from how they deal with any potential outfall.
Have your say
Do you have any examples of inappropriate social media use, or maybe you saw a similar situation with social media tools handled well or badly? If so, please share your thoughts using the reply section below.
Next Steps:
If you would like help with your social media policy development, or social media training for your staff and management teams on how to use social media effectively while protecting your brand and reputation, or would like to book Ian to speak at your next event then:
Call Ian on: 07979 593 970 or CLICK HERE>
Ian is a social media and IT Strategist, Broadcaster, and Keynote Speaker on IT Strategy, Social Media and Information Security. Connect with Ian on Google+