Updated PR Website and Social Media Strategy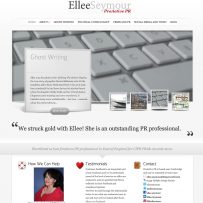 Ellee Seymour is a journalist, author, public relations consultant, a Huffington Post blogger and video producer and works with innovators and entrepreneurs in the healthcare and biotech industry.
Ellee has been running her own blog for seven years which had accumulated a vast amount of content with over 1000 blog posts, and included hundreds of images and videos. Her site was beginning to look tired and was in need of a serious workover to bring everything up to date. Her blog is archived by the British Library as a record of life in the UK today and has been featured on the Andrew Marr Politics Show, BBC News 24, in The Guardian and recommended on Radio 4 Woman's Hour. Ellee has also embraced social media tools and Social Media Websites to increase visibility of her blog on search engines and to grow her number of subscribers.
Social media strategy
After careful consultation we identified a theme that would suit Ellee's requirments and Ian put together a social media strategy that incorporated Twitter, YouTube, Flickr, Pinterest, FaceBook and LinkedIn which was integrated seamlessly into her site with a bespoke Social Media Policy.
Mindful that Ellee needed to measure the success of her social media strategy, Ian added several new plugins for Google Analytics, WordPress Jetpack and Social Metrics Pro which gave her visibility to all of her social media marketing efforts. Ian also included WordPress video training plugin, personalised one-to-one social media training, and he also introduced Ellee to a selection of iPhone apps that allowed her to manage her blog and social media from her iPhone while she was out and about working in the field.
Social Media
Since completing the work for Ellee, she has become so advanced with her own social media that she now offers social media training and support to her own clients while Ian continues to act as her personal social media advisor and mentor.
I would like to thank you for my new professional website. I absolutely adore it and it totally embraces my personality, as well as my varied professional skills. I was amazed to find I had written almost 1,000 posts on my old blog, and with all the pictures and videos, there was an incredible amount of content. Thank you also for helping me to transfer everything over; it was a mammoth task. I was delighted to retain all my precious blog content, and the main focus is now on my professional skills. Thank you so much for such a professional job which always impresses those who visit the site, resulting in very positive feedback.
www.elleeseymour.com
Next Steps:
If you would like help with your website development, social media policies, or training for your staff and management teams on how to use social media effectively while protecting your brand and reputation, or would like to book Ian to speak at your next event then:
Call Ian on: 07979 593 970 or CLICK HERE>
Ian is a social media and IT Strategist, Broadcaster, and Keynote Speaker on IT Strategy, Social Media and Information Security. Connect with Ian on Google+